Le temps devrait être plutôt beau et plus sec aujourd'hui avec un léger risque d'averses passagères. Les alizés d'est restent forts et la mer très agitée à forte au large. L'avis de prudence pour les petites embarcations et les baigneurs reste en vigueur (Anguilla, St Eustache, Saba, Anegada Passage. Météo France n'émets pas de tels bulletins.)
HIER, nuit dernière et ce matin: assez beau temps avec cependant quelques averses passagères par-ci, par-là.
CET APRÈS-MIDI et nuit prochaine: quelques passages nuageux avec des petites averses isolées possibles (par exemple à 10:10 h). La mer est peu agitée à parfois agitée dans la baie, très agitée à forte en Atlantique.
5 JOURS SUIVANTS: peu de changements. Passages nuageux de temps à autres avec de possibles averses surtout la nuit. Le vent restera assez fort à fort et la mer très agitée à forte.
NAVIGATION: il faut encore rester prudent près des côtes Nord à Est (déferlantes). De plus, un avis de prudence pour les petites embarcations et les baigneurs ("Small craft and sea bathers advisory") reste en vigueur pour les îles voisines. PLAGE: pas de problème particulier sur les plages abritées de la houle (Terres-Basses) mais méfiance sur les côtes exposées. Attention au ressac. Du ressac peut aussi se produire sur certaines plages abritées.
BRUME de SABLE SAHARIENNE: assez importante=air + sec.
METEO Anguilla | St Maarten | Meteo France Marine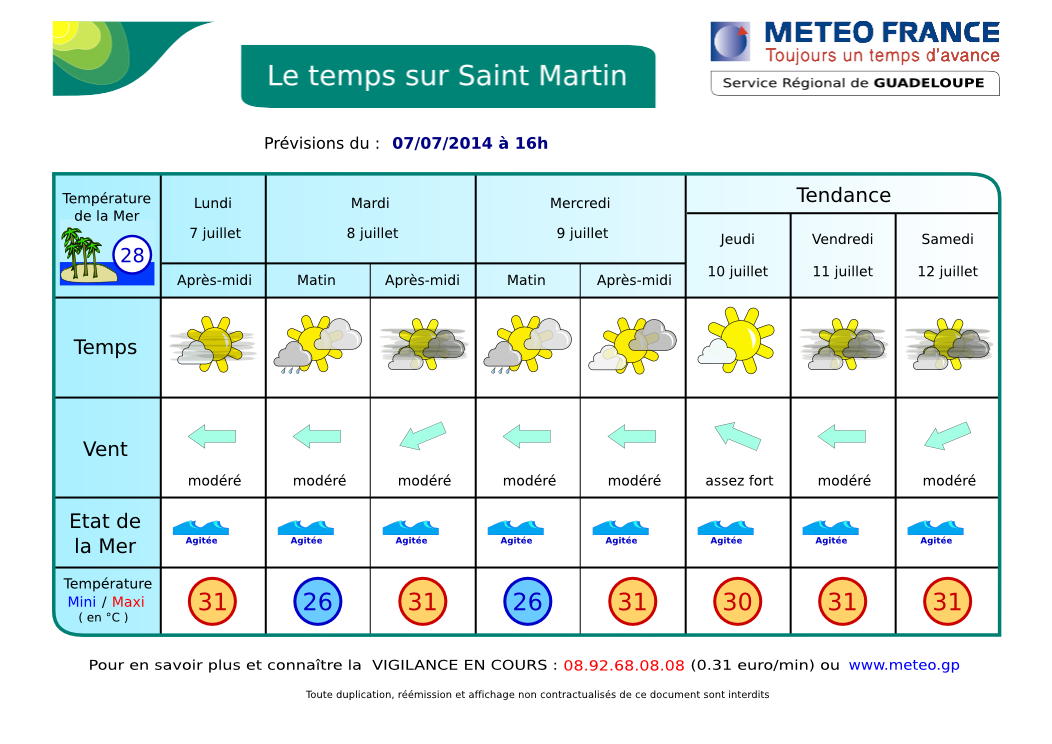 Prévisions Météo-France
In English:
Weather should be rather nice today with a low chance of passing showers except maybe during the night. Easterly Trade Winds remain relatively strong. Seas remain relatively rough or choppy on open waters. Slight to choppy waves in the Nettle Bay.
YESTERDAY, last night and this morning : relatively fine weather but with some passing showers here and there.
THIS AFTERNOON, tonight and overnight : pleasant weather with some passing clouds. Fairly low risk of showers. The sea is slight in the bay, choppy to rough in Atlantic.
5 FOLLOWING DAYS: Little change.
NAVIGATION : we must be careful along Eastern coasts (breakers, surfs). In addition, a Small craft advisory and sea bathers remains in effect for the surrounding islands. BEACH : no particular danger on leeward shores (example: Terres-Basses) but beware of exposed coasts beaches.
SAHARAN SAND DUST HAZE : relatively dense =drier air.
SHIPS: 4 super-yachts in front of Nettle Bay Beach Club: Amevi (240 ft), QUATTROELLE (288 ft). You can rent her for $ 1 million per week (first prize!). AIR (266 ft). Another one is unidentified (not connected to AIS). Tanker: Emily PG anchored in front of Grand-Case.
Ces bulletins par courriel:
ABONNEMENT